4th Grade End of the Year Award Ceremony is taking place on June 17, 2022 at 9:30 in the Paper Mill Cafeteria.
Paper Mill Field Day is June 15th with a rain date of June 16th. If you are interested in volunteering for Field Day, please stop by the main office and complete a CORI form. This year we have asked grade levels to wear colors. The grade level colors are below. K- yellow 1st - red 2nd- white 3rd- green 4th- blue
Inflatable/Water Day is rescheduled for Thursday, June 2nd due to the inclement weather scheduled for Wednesday, June 1st.
Inflatable and Water Day is June 1st. Students will have the opportunity to enjoy an inflatable obstacle course and a bounce house and then cool down with water games!
Step Up Day is June 3rd for all 4th grade students. $th graders will be traveling to Westfield Intermediate School at 12:15.
The Spring Concert is back! Please see your student(s) times below: Tuesday, May 24th 10:00 am kindergarten, 1st grade, 2nd grade, and chorus Tuesday, May 24th 2:00 pm 3rd grade, 4th grade, chorus, and band Tuesday, May 24th 6:00 pm chorus and band
Luau Day is happening this week! Wednesday, May 18th students will be enjoying a Luau during their lunch time. Please send your student to school in their best Hawaiian attire. Each student will receive a lei to celebrate.

Cub Scouts Information Session May 16, 2022 6 - 7 PM More information on the flyer.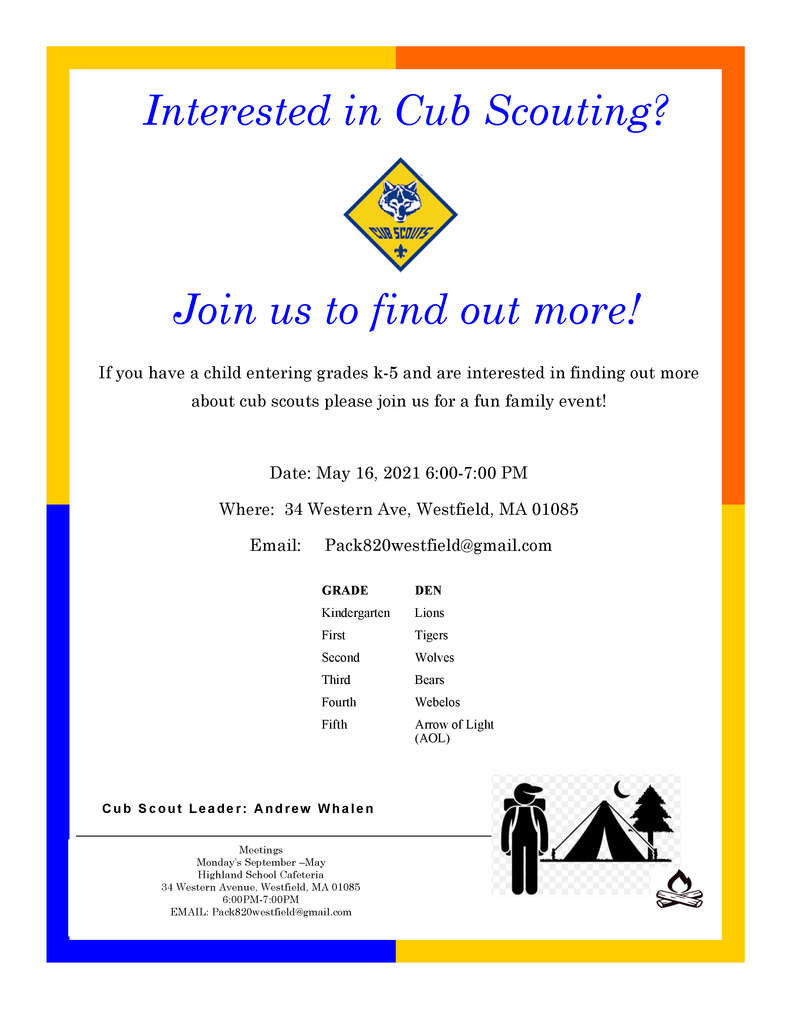 We are exploring the possibility of having two tuition-free, full-day preschool classes at Southampton Road Elementary School for the 2022-2023 school year. We are surveying parents and guardians of preschool age students to identify the level of interest in this program. There would be a maximum of 15 students per class, and all children would be selected by a lottery process. If your child will be 3 or 4 years old by September 1, 2022 and you are interested in enrolling your child in a full-day preschool through Westfield Public Schools, please complete this survey.
https://bit.ly/FullDayPreschoolPilotSurvey
Welcome Mr. Czuchra! Paper Mill welcomes Mr. Shawn Czuchra to our school community. Mr. Czuchra will be our Interim Assistant Principal while Mrs. Fiore is home with her newborn baby. Please join me in welcoming Mr. Czuchra to Paper Mill!
Please do not forget that Friday, March 11th is a Professional Development Day for schools. There is no school on Friday.

Westfield Public School Registration is now OPEN!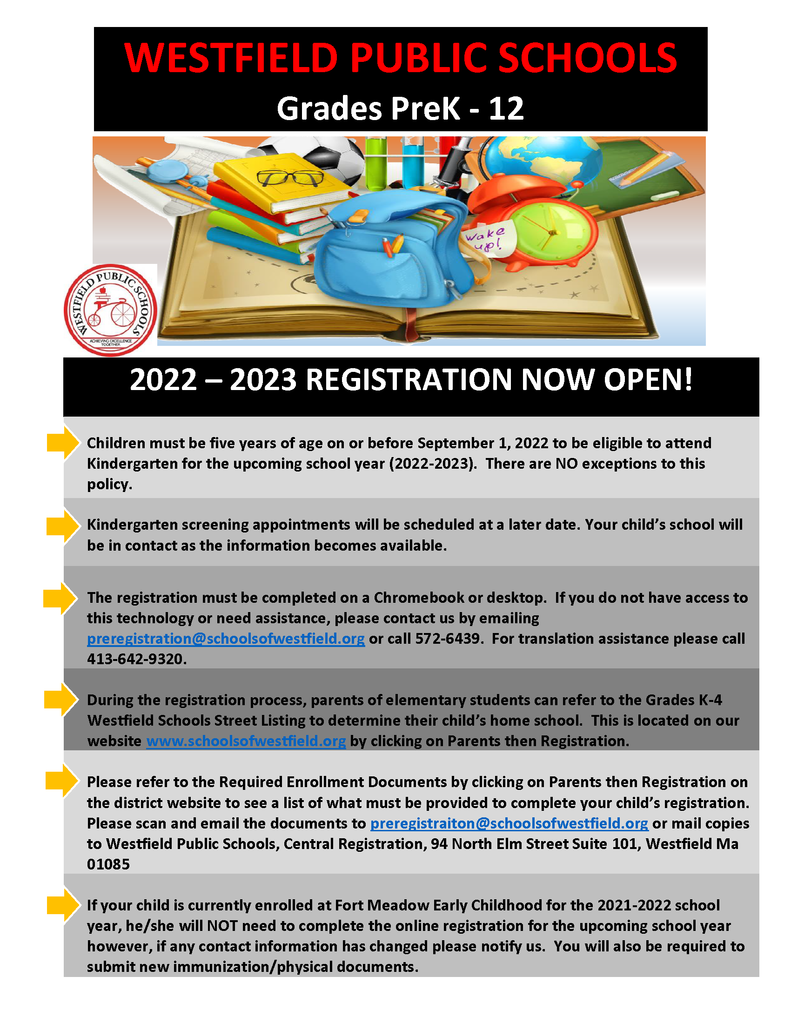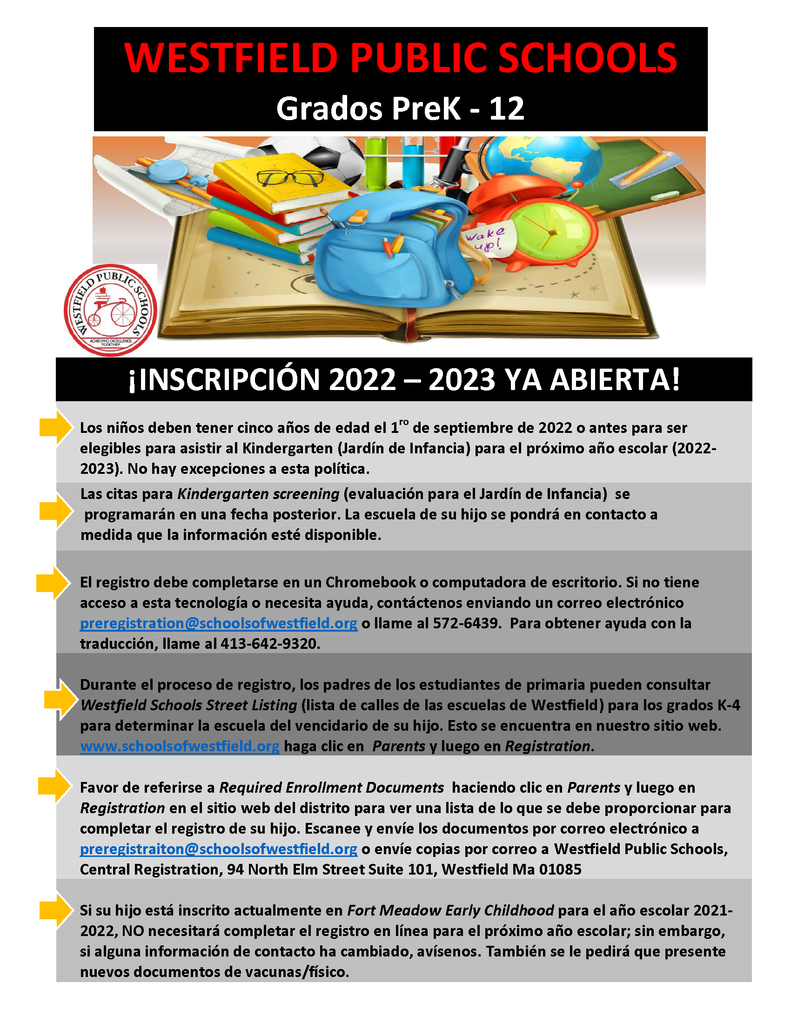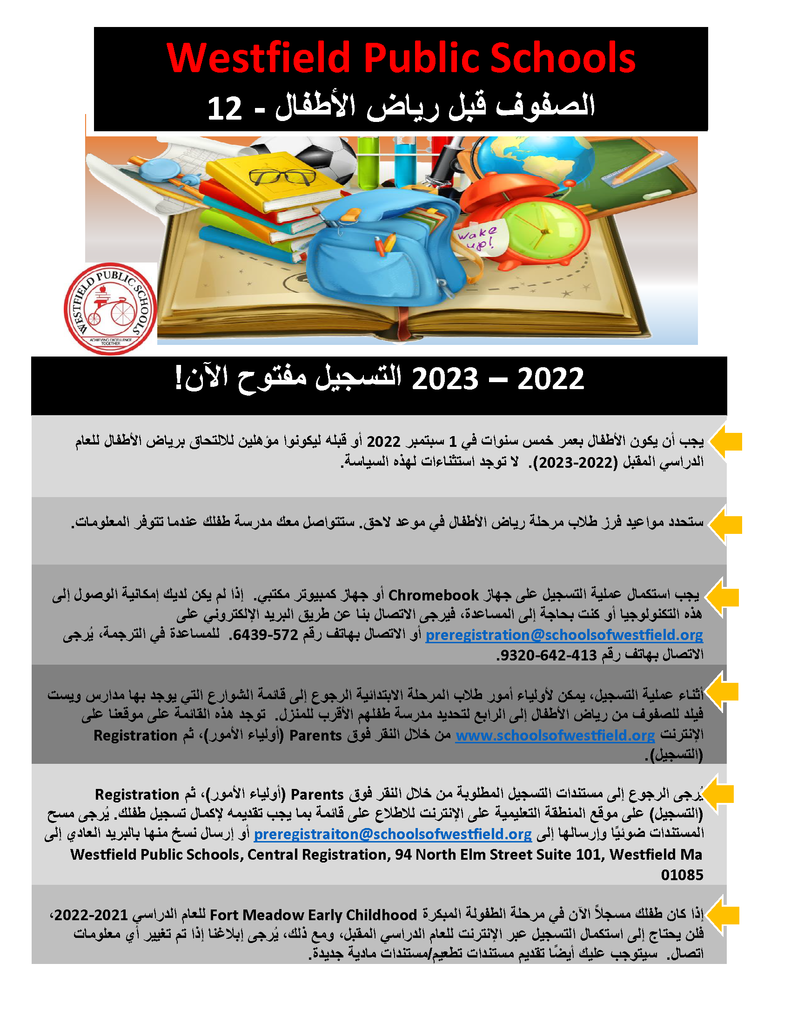 Tomorrow is Pajama Day at Paper Mill! Please do not forget to wear your jammies!
Parent Teacher Conferences are happening on February 9, 2022. This means we will be dismissing half day. Dismissal begins at 12:15.
PTO is Virtual! Our next meeting is December 8th from 6:00-7:00 p.m. Please use the link below Join with Google Meet meet.google.com/ahd-pmpc-vmn
Monday November 15th Paper Mill is celebrating World Kindness Day. Please have your child wear red, pink, or white. We want to celebrate the importance of kindness!
Tomorrow is an early dismissal day due to Elementary Parent Teacher Conferences. Dismissal is at 12:15 p.m.

Good Afternoon Paper Mill Families! Our phone lines and internet are back up and running. We appreciate your patience!

Good Morning Paper Mill Families! It in Monday, October 25, and our internet and phones are down at school. Once they are back online, we will send another message.